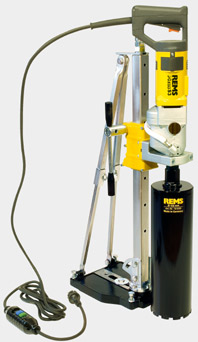 :: REMS Picus S3 ::
Electric diamond core drilling machine



High-performance, handy electric tool for core drilling in steel-reinforced concrete, masonry and other materials. Dry or wet drilling, hand held or with drill stand. For installation, metalwork, industry.

Steel-reinforced concrete up to Ø 152 mm. Masonry up to Ø 250 mm. REMS universal diamond core drilling crowns, also for suitable drive machines of other makes

REMS Picus S3 - Core drilling instead of chiselling.
Easy, fast, vibration-free.
1 system - 4 applications.
Ideal for plumbers.