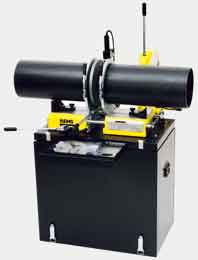 :: REMS SSM 250K ::
Butt welding machine



Powerful, proven, easy-to-carry compact machine. Ideal for sanitary installations and installations of drain pipes, chimney reconstruction with PVDF pipes. For job site and workshop.

Plastic pipes and fittings in PB, PE, PP, PVDF Ø 75-250 mm, Ø 75-125 mm ≤ PN 16, Ø 75-140 mm ≤ PN 10, Ø 75-180 mm ≤ PN 6, Ø 75-225 mm ≤ PN 4, Ø 75-250 mm ≤ PN 3.2.

REMS SSM 250K - compact and robust.
Heating element according to DVS. Electronic temperature control. High-quality PTFE coating. Powerful facing cutter. Closed facing cutter housing.