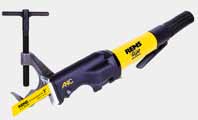 :: REMS Tiger ANC pneumatic ::
Pneumatic reciprocating pipe saw



Powerful, handy pneumatic tool with patented guide support for effortless, fast and right angle sawing anywhere on site, without vice. Also for universal free-hand sawing. Ideal for use in dangerous, e.g. in wet environment. For assembly, dismantling, repair.

Steel pipes and others Ø up to 6", 160 mm. Other metal profiles, nail-embedded wood, pallets up to 250 mm. Plunge-in sawing for plastic pipes Ø up to 1600 mm.

REMS Tiger pneumatic - for sawing in dangerous environment.
Saws effortless, fast, right-angle. Unique, patented guide support for 400% additional sawing force. Sturdy, square, patented lift rod. Oscillating drive with ANC. Aggressive orbital action for fast feed forward sawing and long service life of saw blades. Universal, patented saw blade clamp.